FEDACK INVESTIGATIONS
ATLANTA COLD Case Study
Over the months, the leads dried up. On the first anniversary of Little's disappearance in 1966, police admitted they were no closer to finding her than they had been a year before.
CASE SUMMARY
WHO KILLED MARY SHOTWELL LITTLE?
UNSOLVED | THE MYSTERY REMAINS
Over 52 years ago in the fall of 1965, Mary Shotwell Little disappeared from the Lenox Square parking lot in Atlanta, GA. It remains the most famous missing persons case in Atlanta's history.
Jim Ponder, the FBI's liaison with the local law enforcement was puzzled from the beginning. "There were a lot of things about this case that never made sense," he says.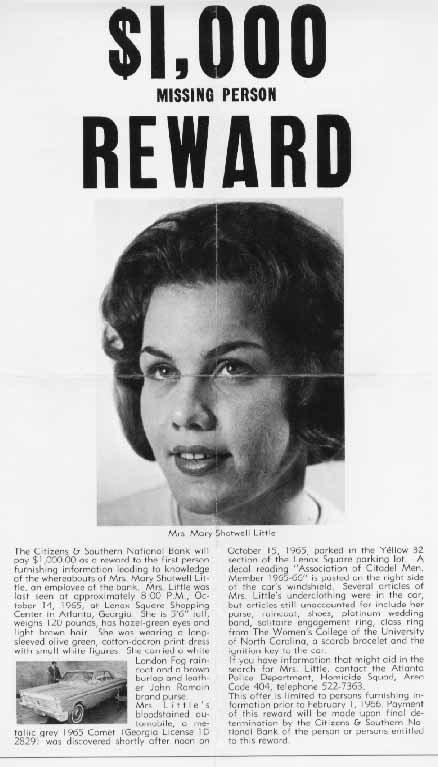 CASE STUDY
Victim: Mary Shotwell Little (Newlywed)
Disappeared: October 14, 1965 at Lenox Square parking lot, Atlanta, GA
Worked: Citizens & Southern National Bank
Age: 25
For just over 50 years both cases are still unsolved.
On October 14, 1965 a young bank secretary Mary Shotwell Little met a girlfriend at Lenox Square for dinner.  The next morning she did not show up for work and her boss was worried.  She had several recent strange phone calls and received flowers from a stranger. Her car was found at the mall.  It was covered with red dust and her panties were found on the floorboard.  Her car had been driven 41 miles. Very quickly the newspapers and TV reporting reached a panic level.  The Atlanta Police and the FBI assigned their best investigators to this case.
No clues were found until several weeks later.  APD was notified that Mary's gas credit card was used in Raleigh and Charlotte.  The lead detective, Lt. Jack Perry flew to North Carolina.  At both gas stations the attendants remembered a young woman who looked hurt and was bleeding.  There were two men with her and she would not get out of the car.  Lt. Perry could not find any more leads on Mary's whereabouts.  The case dragged on with no new leads until 18 months later.  A friend of Mary, Diane Shields was found murdered and stuffed in her car trunk in East Point.  Both girls had worked at the bank and had several of the same roomamtes.  The panic and fear started all over again.  No arrests were made in either case.
For just over 50 years both cases are still unsolved.